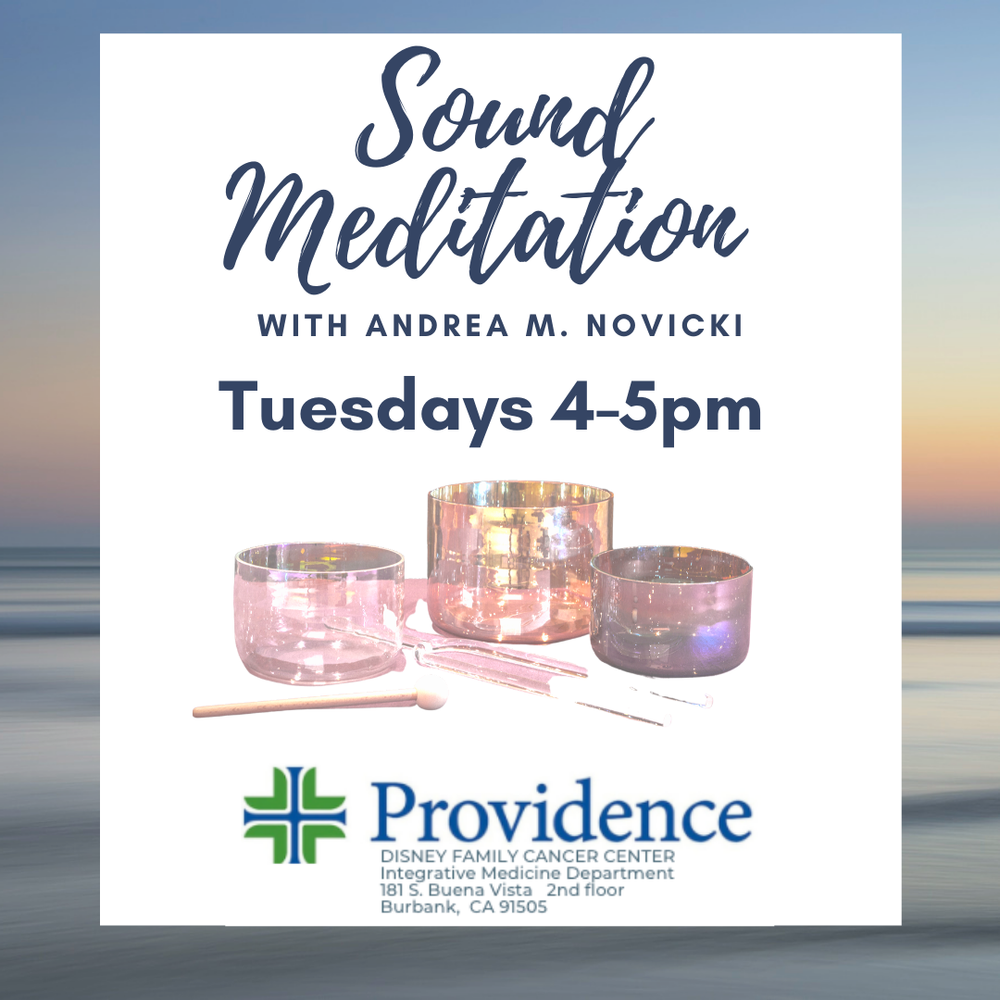 Sound Meditation
LIVE IN PERSON NOW at the Providence St. Joseph Roy and Patricia Disney Family Cancer Center- Integrative Medicine Department 2nd Floor Yoga Room.
with Andrea M. Novicki- Certified Therapeutic & Clinical  Musician, Sound Therapy Practitioner & Board Certified Hypnotherapist

An evidence based Mindful Sound Healing Meditation using healing instruments, crystal & Himalayan singing bowls to deepen your state of relaxation with Guided Imagery for Cellular Healing and Empowerment created to help cancer patients, patients with chronic disease and anyone facing major surgery.
Helps with stress and anxiety reduction, pain reduction, improvement of sleep and overall sense of wellness for the Mind, Body & Spirit!
Guided Imagery & Sound Healing has been proven to:
Activate the Parasympathetic Nervous System to Decrease Stress and Anxiety

Lower Blood Pressure

Deepen Your Sense of Awareness

Help to manage Aches and Pains

Boost Endorphins, Dopamine & Serotonin to Increase mood and state of well being!

PLEASE CALL AHEAD OF TIME TO MAKE SURE THERE ARE NO CANCELLATIONS THAT WEEK: INTEGRATIVE MEDICINE DEPARTMENT: 818-748-4701
Only $10 Money goes to the Integrative Medicine Department.
LOCATION: 181 S. Buena Vista Street Burbank, CA 91505 2nd floor

Masks required throughout the cancer center.
Please bring yoga mat, blanket, pillow, water
There are yoga mats and blankets at the Disney Family Cancer Center if you need to borrow them.
Please use gloves and disinfecting wipes provided to clean the yoga mat afterwards.  
Thank You!
We look forward to seeing you in the SOUND MEDITATION